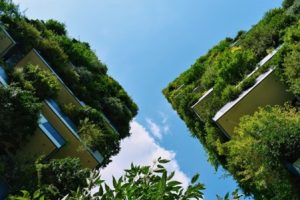 Over the past year, the increasingly popular buzzword "ESG" has found its way into many newspaper articles and online posts – but what does ESG mean in a property context? Environment, Social and Corporate Governance (ESG) are the three core factors which are used to measure the sustainability and societal impact of properties and will be the key metrics influencing the future of property development and valuation. ESG standards and reports enable companies and landlords to take proactive steps to implement forward-thinking upgrades or changes to their buildings in order to strengthen their overall sustainability and adhere to the continuously tightening regulations.
Thus far, the property sector has mainly been focusing on the Environment element of ESG – specifically on the energy efficiency of buildings. Built up environments are one of the largest consumers of energy, making up for 40% of total energy consumption and 36% of CO2 emissions in the EU. Buildings' environmental sustainability metrics will continue to be measured in part through certifications such as BREEAM and NABERS, however, efforts are now being directed at initiatives such as World Green Building Council's (WGBC) Net Zero Carbon Buildings Commitment, which calls for all buildings to reach the goal of net-zero carbon emissions by 2050.
The Social portion of ESG is becoming significantly more important to communities, especially since the beginning of the pandemic where lockdowns tested the societal limits of many communities – from increasing the reliance on local amenities to making the most of the people and spaces within and around communities. Therefore, it is critical to recognise the ability of the real estate sector to affect social change and the wellbeing of communities through the revitalization of public areas and the construction of affordable homes.
The 2050 net-zero emissions targets can only be met if there are good Governance measures in place to ensure that companies, landlords and investors do their share in making progress to accomplish such goals. Governments are under more and more pressure to lessen environmental and social threats and as a result, they have responded by enacting new ESG-focused legislation and policies which are expected to be in effect soon. Despite these measures being put in place, the UK is still not on track to achieve an 80% reduction in emissions by 2050, yet alone net-zero by 2050; hence, an increase in governance and regulations into achieving this goal are essential. The property sector must make sure it can keep up with a quickly changing regulatory environment as the trend toward greater compliance increases. Meanwhile, many commercial occupiers have their own net-zero targets and would like their buildings to reach this target sooner.
As you can imagine, you will be coming across the term ESG more frequently over the coming years. It is rightly in the spotlight now and there is a lot of work to be done on all metrics.